Carina Björck Artist
Paintings Works CV Press Gallery Exhibitions Blog Contact
Carina Björck Gallery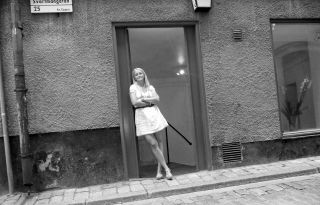 CARINA BJÖRCK GALLERY
opend 2009, located on Svartmangatan 25, Stockholm.
Carina Björck Gallery represents contemporary artists who works
in a variety of media, including painting, drawing, photography,
sculpture, glass, video and installation. It´s influenced by illustration,
comic book art, street art and pop culture imagery. We represent
a mix of emerging and mid-career artists with an emphasis on
cultivating new talant and creating an evironment where artist
can further develop their talent. And to introduce exemplary art
to the Swedish market.
The location Svartmangatan 25 is now sold. But the Gallery continues
it's work on the web and on different pop up locations.
Mail and showroom at Skidåkarvägen 3, 181 29 Lidingö.

Artists
Orestes Grediaga
Exhibition Calender
21 Aug - 7 Oct
Carina Björck, Mari Zidén
8 Oct - 22 Oct
23 Oct - 10 Nov
Carina Björck, Mari Zidén, Mikael Sol, Mixed Media
14 Nov - 18 Nov
Annika Öhrner, Role Model
11 Nov - 2 Dec
Carina Björck Galleri on tour at Bankhälsan
20 Nov - 2 Dec
Roland Svensson, grafik
4 Dec
December market
4, 5, 6, 10, 11, 12, 13, 17, 18, 19, 20 december
open Th - Fr 16 - 18, Sat - Sun 12 - 16
Mari Zidén, Mikael Sol, Marcus Nyblom, Knut Larsson & Carina Björck
21 Jan 16 - 20
after work at the Gallery with the artists
5 Feb - 18 Feb
Helen Pihl, Lea Lindell, Anette Theodoridis, Island
19 Feb - 25 Feb
Carina Björck
26 Feb - 11 March
Roland Svensson, grafik
12 March -25 March
Lena Naarttijärvi, My Stockholm
26 March - 1 April
Susanne Nilsson, En skarv i mitt hjärta, sculpture
10 April - 10 May
Carina Björck exhibit at Big Arts, Florida, Usa
22 April - 28 April
29 April - 6 May
7 May - 20 May
Shitate Hiroko, Kyoto, Japan, draws in cotton
21 May - 2 June
Mari Zidén, Carina Björck, Release
4 June - 12 June
Momo Taniwaki, Japan, " mosh, moshi?" draws in colour
18 June - 26 Aug
Mixed Media exhibition by Gallery Artists
Alberto Corradi, Devlin Shea, Knut Larsson, Lena Naarttijärvi,
Mari Zidén, Mikael Sol, Carina Björck
27 Aug - 9 Sept
Emelie Östergren, The Yellow Cloud
10 Sept - 30 Sept
Niklas Asker, Blood is Thicker Than Rope
1 Oct - 20 Oct
Alberto Corradi, Italy, Dumb Eye
21 Oct - 10 Nov
Devlin Shea, USA, Googled Connections
11 Nov - 25 Nov
2011
21 - 31 Jan
Connections and Places, Alberto Corradi, Devlin Shea, Knut Larsson Carina Björck
22 March - 3 April
Carina Björck at Echo Tour, Kyoto Japan
April
Knut Larsson
May
Carina Björck